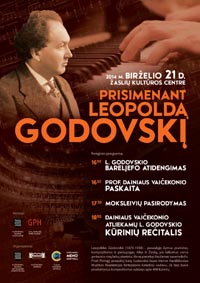 The purpose of this new site, launched in 2012, is to rekindle The International Godowsky Society that Godowsky's friend Paul Howard began in 1936. Howard passed away in 1953 and in 1980 Harry Winstanley of Edinburgh, Scotland, brought the Society back to life.

Our new effort here is an interactive site for interested musicians and scholars to share their ideas and information about Godowsky. Thanks to Harry Winstanley we are in possession of Paul Howard's original correspondence with Godowsky, "After Midnight Thoughts," and the complete set of newsletters from the Godowsky Society. We will be adding this material to this site over the next few months. We also ask any individuals and organizations dedicated to keeping alive Godowsky's memory and music to send us their links and we will welcome articles from musicians and scholars who would like to contribute to this site. Additionally we welcome musical performances of Godowsky's music and arrangements.

Godowsky is primarily known as a superman of piano playing and a unique arranger, but few people know that he was also a wonderful and prolific composer. He composed for the two extremes of pianism: from the simple duets for four hands (Miniatures) to the legendarily difficult 53 paraphrases on the Chopin Etudes, the Symphonic Metamorphoses, and the monumental Passacaglia. The critic James Gibbons Huneker referred to Godowsky as "a pianist for pianists", "the apostle of the left hand" and "the Buddha of the piano."

We are eternally grateful to Harry Winstanley for sharing this treasure of information with the world. It will help to continue to keep alive the works and memory of one of the greatest and most under-appreciated geniuses of all time -- The Buddha of the Piano: Leopold Godowsky.

Paul Howard, Founder
of the International
Godowsky Society


Harry Winstanley,
President Emeritus

Antonio Iturrioz
Director

Dr. Jonathan Mann, NCTM
Associate Director