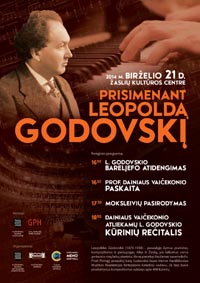 The purpose of this new site launched in 2012 is to rekindle The International Godowsky Society that Godowsky's friend Paul Howard began in 1936. Howard passed away in 1953 and in 1980 Harry Winstanley of Edinburgh, Scotland, brought the Society back to life in newsletter form.

I first met Harry Winstanley a year before I played a recital in Edinburgh. We shared a love for the legendary Godowsky and over the years became close friends. He asked me to take over the reins of the Society and to rejuvenate it with an online presence which I have endeavored to do.

This new site is now an online open forum for musicians, scholars and Godowsky fans dedicated to keeping alive Godowsky's memory and music.

We are NOT a traditional membership society with dues, etc., as it once was in years past.

We welcome your articles, photos and musical performances of Godowsky's music and arrangements. Send them to us and we will post them on our site.

Thanks to Harry Winstanley we are in possession of Paul Howard's original correspondence with Godowsky, "After Midnight Thoughts," and the complete set of Newsletters from The Godowsky Society. The Newsletters encapsulate the discourse of the International Godowsky Society and the insightful exchanges between Godowsky and Howard. We are eternally grateful to Harry Winstanley for sharing this treasure trove of information with the world. Harry Winstanley was a brilliant scholar and musician and I feel very honored to have known such a kind and generous soul. He passed away in January 2014.

Godowsky is primarily known as a superman of piano playing and a unique arranger, but few people know that he was also a wonderful and prolific composer. He composed for the two extremes of pianism: from the simple duets for four hands (Miniatures) to the legendarily difficult 53 paraphrases on the Chopin Etudes, the Symphonic Metamorphoses, and the monumental Passacaglia.

The critic James Gibbons Huneker referred to Godowsky as "a pianist for pianists, the apostle of the left hand, and the Buddha of the Piano".



Harry Winstanley,
President Emeritus

Antonio Iturrioz
Director

Dr. Jonathan Mann, NCTM
Associate Director